I had the pleasure of completing a five day art residency at the Sou'Wester in Seaview, Washington last month. I haven't had a lot of time to sit down and reflect on the experience so I thought I would do that today. The residency program is open to writers, musicians, visual artists, cooks, crafts people, and engineers alike. I applied last year but did not have the time to complete the residency, so I reapplied this year as a birthday gift to myself. I am so grateful that I was able to take the time to do this- it was really needed. I hope to make the time to do this or something like it every year.
For more information about the Art Residency Program at the Sou'Wester or to apply, visit their website here.
Since I primarily make images using film- I started out knowing that I needed to organize and sort through my archives of negatives from over the years. I can be good about labeling, scanning, printing, and dating my negatives but I've gotten so busy and I've been making a lot of images, especially the last 4 years or so. I also wanted to see any themes in my work to start to curate a solo show for 2017.
The following is a journal of my days during the residency. Happy reading and enjoy!
Sunday- First Night at the Sou'Wester Art Residency
It was a good drive up to the Sou'Wester from Portland and I arrived around 5 pm just before dark. I had just enough time to unload the truck and get checked in. I bought all of the archival negative binders up this evening. It's almost 6 pm and I've got the scanner and computer all setup ready to scan and organize my archives. It's a strange practice to digitize the stacks of analog negatives I've made over the years.
I was so excited on the drive out for the next four days, to focus and complete my work. I am so grateful to be at such a unique spot on the coast. Peace and quiet, besides the sounds the lodge makes which are rather comforting. Looking forward to working next to the inspiring smell of the sea. Scanned a few rolls after dinner and then turned in early.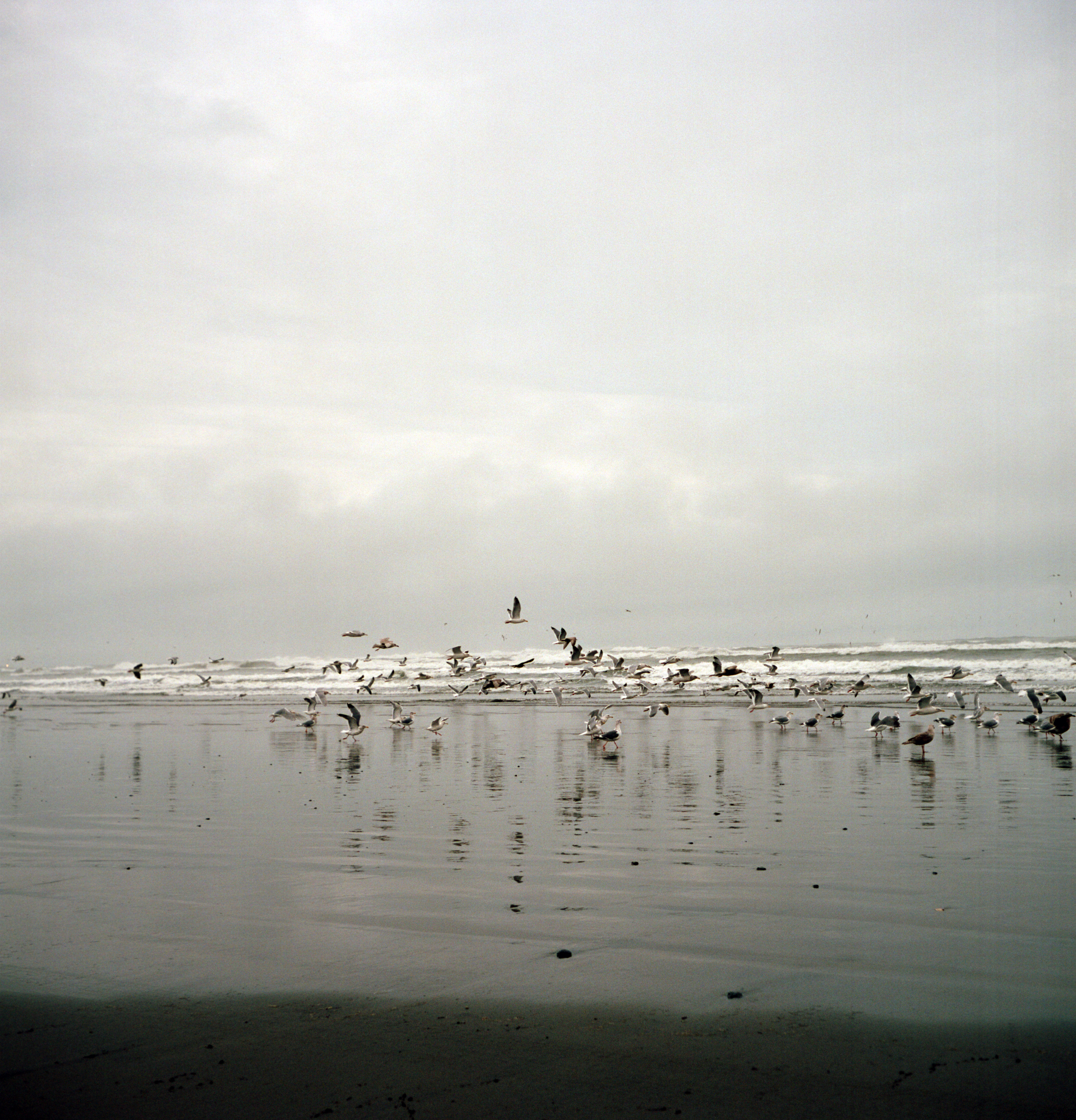 Monday- Day 2
I got up early and made coffee. I find myself wanting to photograph the room and lodge. I will start going through images and scanning in new images and organizing now and wander around this afternoon.
Last night before bed I read Sally Mann's book and it had this excerpt from Childhood House by Eric Ormsby
"Somehow I had assumed that the past stood still, imperfect effigies of itself, and that what we had once possessed remained our possession forever, and that at least the past, our past, our child-hood, waited, always available, at the touch of a nerve, did not deteriorate like the untended house of an again mother, but stood in pristine perfection, as in our remembrance. I see that this isn't so, that memory decays like the rest, is unstable in its essence, flits, occludes, is variable, sidesteps, bleeds away, eludes all recovery; worse, is not what it seemed once, alters unfairly, is not the intact garden we remember but, instead, speeds away from us backward terrifically until when we pause to touch that sun-remembered wall the stones are friable, crack and sift down and we could cry at the fierceness of that velocity if our astonished eyes had time."
More coffee. Took a long walk on the beach this morning and met an English fellow who had a Fuji 6x45 with HP5 in it. A fellow film lover. He owns the English nursery in town and invited me to pop in if I have an extra 10 minutes, his studio is also in the building. I will have to go there sometime this week. He also told me about a trail that leads to a secret beach. But now its time to eat a sandwich and start going through images. It's 11am. It doesn't matter where I start- just as long as I do start somewhere. Feeling a bit overwhelmed and wanting to make the best use of my time.
2:45pm I've been scanning and reorganizing C-41 120 negatives starting from 2016 and moving backwards. There are a total of 16 negative binders to get through but about five of those are not able to be scanned on this scanner. So I'm hoping to get through 2016 Medium format and one other binder today.
At 5:30 I went down to the sauna. No one is around, it's so quiet. I love it. I ate some dinner and I'm finished with 2016 negatives. It's 8:10pm… still scanning. May turn in early then start again early tomorrow with a walk and more scanning and organizing. This is the less exciting part of the artistic process, one that I often put off doing but to see all the work I've made over time will hopefully pay off.
Tuesday- Day 3
I got up in the morning feeling the need to get out of the room. It was very sunny and clear out today. I went down to the pickled fish to get some breakfast. I went down to the sportsman cannery to pick up some smoked salmon for Josh. Then got to work scanning 2015 negatives. Lots of reorganizing.
Attempted some self portraits but my cable release isn't working. Photographed the beach, woods, porch, and room today.
Around 3pm I started to get stir crazy and decided to check out the secret beach. The walk was about 4 miles one way (I didn't know how far it was but I had gotten so far I thought there was no use turning back until I arrived). I arrived around 5, just in time for sunset (took some photos, Rollei strap broke) and hardly had enough time to get back to the lodge before dark. I made it just in time. I heated up some soup and tried to warm up. Finished up scanning for the evening. Went down to the sauna. Came back and decided to scan some more.
Wednesday- Day 4
This is my last full day here. I'm finding it hard to feel like I've accomplished everything that I wanted to during the residency. However, I'm trying to look on the bright side and think about how much I was able to do during my time here. I appreciate the quiet and distraction free time to work. I hope to spend this afternoon reflecting on the work I've done so far and write a list of things I hope to accomplish this year to come.
I need to pick some themed projects for a show. I'd like to take some photos of nature and organic material and also some garden tools. I would also like to create large prints of these items for display.
I'm going to stop scanning for now and I want to do some more reflecting on my work so far and what I want to accomplish in the future.
Thursday- Day 5 Last day
Thinking about themes throughout my work and home, plant matter, domestic life, female, death, life, and decay are all themes I've seen while going through my work. I hope to solidify a body and have a show by the end of 2017. I'll keep you posted.